If you have been seriously injured in a work accident you may be able to claim for past loss of earnings and future loss of earning capacity.
Expert Work Injury Damages Lawyers
At Law Advice, compensation law is all we do. We have experts in work injury damages claims that are Accredited as Specialists in Personal Injury Law by the Law Society of NSW.
Work Injury Damages Claims
There are thresholds that must be met to make a work injury damages claim, however the most important are:
Your injury must be the result of the employer's negligence; and
Your injury must be assessed at fifteen percent (15%) whole person impairment or greater.
Our expert lawyers will gather the best liability and medical evidence in your claim regarding the above thresholds. 
Work Injury Damages Claim - Example
A typical example of a Work Injury Damages claim is as follows. Assume you were 35 years of age, were working full time at the date of injury and were earning $850 net per week (roughly average weekly earnings). You sustained an injury at work which rendered you either completely unfit to work or almost completely unfit for work (which is assessed at 15% whole person impairment or higher). If you can establish that your employer was negligent in causing your injuries and incapacity for work, then you should be awarded by the courts somewhere in the vicinity of $600,000 - $850,000 as compensation for your past and future wage loss and past and future superannuation loss (clear of workers compensation wage payments to date).
It's important to know that a lump sum work injury damages settlement finalises all entitlements to workers compensation benefits. 
No Win No Fee Guarantee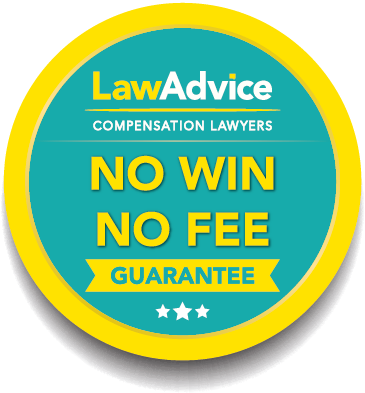 If you don't win your case, you do not pay us any legal fees. It's that simple.
The above information is general information only. For a free consultation and specific advice regarding your claim from one of our experts please contact us on Free Call 1800 122 555 or complete our Free Advice Form.