Slips and falls result in thousands of injuries every year. If you have been injured due to someone's failure to take care for your safety you may be entitled to make a claim. The most common types of claims being slip and fall accidents in public spaces such as a shopping centre or other public buildings. The owners and occupiers of these public places have a duty of care to the general public to ensure the public area is safe. For example, at a shopping centre, the centre management is responsible for ensuring the common access floor areas are free of obstructions and well maintained.


Expert Slip and Fall Lawyers
Law Advice Compensation Lawyers have expert lawyers in slip and fall claims. Our lawyers have specialised knowledge of the Civil Liability Act and have conducted many slip and fall claims. They know what it takes to build a successful claim from witness statements, medical evidence and expert liability evidence.
Common slip and fall claims include:
Slipping and falling on food or other organic material in a supermarket, or shopping centre;
Slipping and falling on liquid in a supermarket or shopping centre;
Slipping on defective, poorly maintained surfaces that are greasy, wet or polished;
Slipping on a wet surface due to lack of warning signs;
Falling down stairs due to poor lighting;
Falling down stairs due to broken or uneven steps or lack of handrails;
Tripping over dangerous objects or equipment;
Tripping on a loose mat or rug;
Tripping due to uneven floor levels;
Tripping on cords laying on the floor.

What can I claim if I have been injured in a slip and fall accident?
If you have been injured you may be able to claim wage/income loss, treatment expenses, assistance around your home, and a lump sum for your pain and suffering. Contact us for a free discussion or consultation regarding your rights and entitlements.  
How long does a slip and fall claim take?
We leave no stone unturned in the preparation of our slip and fall claims. At the same time, we strive to resolve our matters as efficiently as possible for the sake of our clients. In most matters, once we have obtained all the relevant medical and liability evidence we will be in a position to have a settlement conference with the other party. This is normally achieved within 12 months of the accident. if your matter does not resolve at the settlement conference you can be rest assured that our expert lawyers have vast experience in pursuing matters through the court system and obtaining excellent results.
No Win No Fee Guarantee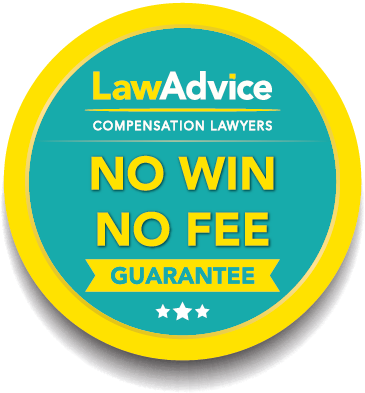 If you don't win your case, you do not pay us any legal fees. It's that simple. 
The above information is general information only. For a free consultation and specific advice regarding your claim from one of our experts please contact us on Free Call 1800 122 555 or complete our Free Advice Form.